My Blog
Posts for tag: oral hygiene
By Bankers Hill Dental
June 19, 2011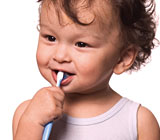 Ensuring that your children have good oral health is (or should be) the goal of every parent or caregiver. But how confident are you about this topic? The following true/false quiz will help you evaluate your expertise while learning more about keeping your child's teeth healthy.
Questions
All children older than 6 months should receive a fluoride supplement every day.
Parents should start cleaning their child's teeth as soon as the first tooth appears.
Parents should start brushing their child's teeth with toothpaste that contains fluoride at age 3.
Children younger than 6 years should use enough toothpaste with fluoride to cover the toothbrush.
Parents should brush their child's teeth twice a day until the child can handle the toothbrush alone.
Young children should always use fluoride mouthrinses after brushing.
Answers
False. Check with your child's physician or dentist about your children's specific fluoride needs. If your drinking water does not have enough fluoride to help prevent cavities, parents of a child older than 6 months should discuss the need for a fluoride supplement with a physician or our office.
True. Start cleaning as soon as the first tooth appears by wiping the tooth every day with a clean, damp cloth. Once more teeth erupt, switch to a small, soft-bristled toothbrush.
False. Parents should start using toothpaste with fluoride to brush their children's teeth at age 2. Only use toothpaste with fluoride earlier than age 2 if the child's doctor or our office recommends it.
False. Young children should use only a pea-sized amount of fluoride toothpaste. Fluoride is important for fighting cavities, but if children younger than 6 years swallow too much fluoride, their permanent teeth may develop white spots. Using no more than a pea-sized amount of toothpaste with fluoride can help prevent this from happening.
True. Because children usually do not have the skill to brush their teeth well until around age 4 or 5, parents should brush their young children's teeth thoroughly twice a day. You should continue doing this until the child can demonstrate a proper brushing technique.
False. Fluoride mouthrinses have a higher concentration of fluoride than toothpaste containing fluoride. Children younger than 6 years of age should not use fluoride mouthrinses unless your child's doctor or our office recommends it. Young children tend to swallow rather than spit it out, and swallowing too much fluoride before age 6 may cause the permanent teeth to have white spots.
Learn More
If you feel you missed too many of the above questions, read the Dear Doctor article, "Oral Hygiene Behavior."
By Kriston Gallipeau D.D.S.
March 28, 2011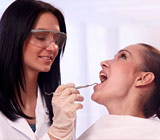 Gum or periodontal disease is a condition in which "biofilms" or dental bacterial plaque sticks to teeth around the gum line in the absence of good oral hygiene. If left untreated, it causes inflammation of the gums and surrounding tissues of the teeth that can result in "pocketing," gum recession and bone loss that eventually leads to loose teeth, followed by no teeth! And for about 10 to 15% of those having gingivitis or stage 1 periodontal disease, it can get worse by progressing into chronic periodontal disease. However, the good news is that a conservative and simple treatment called root planing combined with good daily oral hygiene may return your gum tissues to health, and even eliminate the need for gum surgery.
Most of the time, root planing is performed with local anesthesia (numbing shots) in the areas requiring treatment. Anesthesia is an important part because you should always feel relaxed and comfortable during treatment. Because inflamed gum tissues may be quite sensitive, these numbing shots enable us to accomplish our goals and thoroughly remove the problematic material from your teeth's roots.
Root planing or deep cleaning is a routine dental procedure usually done in conjunction with scaling, the removal of the more superficial deposits on the tooth surfaces. Root planing involves physically planing (scraping) the root surfaces of the teeth to remove calculus, bacteria and toxins that are ingrained into their surfaces so that the attached gum tissues can heal. It is carried out with manual hand instruments, ultrasonic electronic instruments or a combination of both for your comfort and best results.
You can learn more about this procedure by reading, "Root Planing." Or if you want to schedule an appointment to discuss your questions, contact us today.